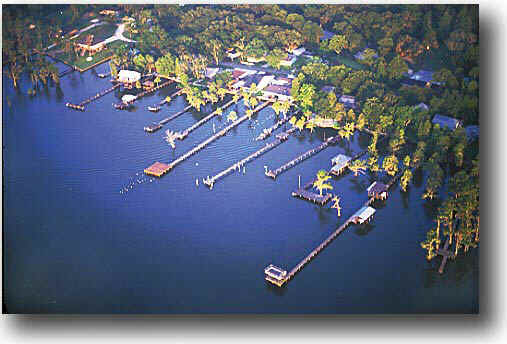 Shell Beach, LA
Cajuns love water, fishing and camps. On Lake Verret at Shell Beach, many fishing camps extend their piers well out into the lake. From here they fish, hunt and run their nets.
This summer, due to low water, crabbing was great in the lake. Vernon and I ate a big batch of crabs with Elwood Metrejeane after a flight over Pierre Parte Bay and Lake Verret.
A flock of American Coots ready to take-off from Spanish Lake. They have short, stubby wings, therefore they have to make a running start to take-off. This is accomplished by their webbed feet which act as paddles. The Cajuns call this bird the Poule D'eau (meaning chicken of the water) and cook it in their gumbo. The American Coot's scientific name is Fulica americana. This bird is usually the size of a chicken. The American Coot lives in marshes, ponds, or river bends with two feet or more of open water. Coots primarily will dive to bottom of the water source to feed. You can also catch them feeding on the surface of the water or even on land surfaces, usually during the cold season. Spanish Lake is used by many more species of wildlife such as Ibis, Egrets, Eagles, Alligators and Nutria. Spanish Lake is near Baton Rouge and has much to offer in outdoor recreation.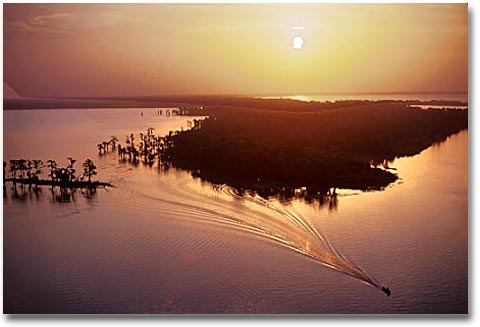 Sunrise over Flat Lake
The Atchafalaya Basin is the Cajun's sportman paradise. This overflow river basin swamp stretches from Simmesport to the Gulf of Mexico. It's approximately 18 miles wide and 120 miles long.
The above photo is at one of my favorite places, Flat Lake. Flat Lake is a great place to catch Bass and an even better place to watch a sunset from a boat. Also, a bird's-eye view of sunrises over Flat Lake are quite beautiful.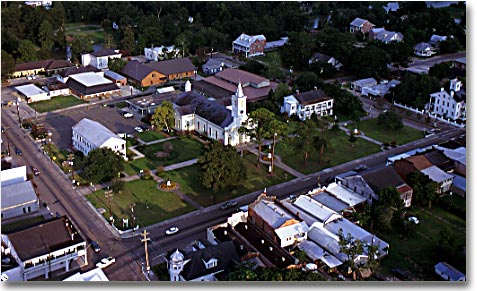 St. Martinville, LA
St. Martinville, LA, a cajun town on Bayou Teche and home of the Evangeline Oak, made famous by Henry Wadsworth Longfellow's poem. You can barely see the oak in front of the Old Castillo Hotel. The hotel is the two-story brick building located at the top, center of the photo. Behind the hotel is Bayou Teche.
In the center of the photo is St. Martin de Tours Catholic Church and to its right is the Presbytery (the Priest's house). To the left of the church is Petit Paris Museum.